October's Program: A South African Adventure with Steven Brack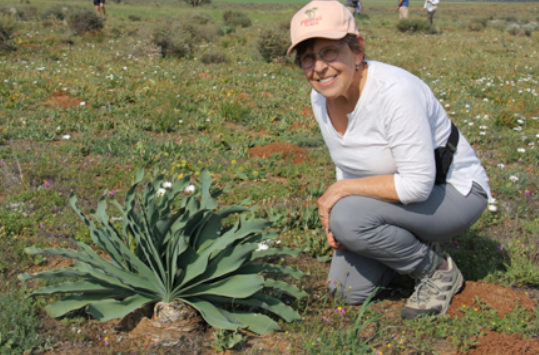 Roxie Esterle brings a lifelong love for biology to the study of cacti and succulents. During her career as a science educator for all grades from middle school to college, Roxie enriched her lessons by sharing adventures from her fieldwork. Roxie and her husband Jim have traveled the world to explore unique biological habitats including Galapagos Islands, Madagascar, Borneo, Ethiopia, South America, and South Africa. Each of these destinations has elevated her appreciation for the fragility and uniqueness of cacti and succulents.
Roxie has been a member of the board of the Los Angeles Cactus and Succulent Society (LACSS) for nearly two decades, including serving as President. For the past six years, she has served as Secretary of the Cactus and Succulent Society of America (CSSA).
In the early 1970s, Steven Brack founded Mesa Garden, the premier cactus and succulent seed nursery in the country. Steven's many successful pollination and germination techniques have influenced growers around the world. His philosophy of producing seed grown specimens for collectors and retailers aimed to reduce field collection, laying the foundation for current thinking about conservation of wild populations. Steven sold Mesa Garden in 2016, allowing him to travel extensively in South Africa.
In Fall, 2022, Roxie and Jim Esterle were among a small group of fortunate adventurers who explored a narrow strip of South Africa's west coast with Steven Brack and Karel du Toit. Curious about the unusual origins of Steven's impressive knowledge about growing succulents, Roxie interviewed him on several occasions and traveled to New Mexico to visit Mesa Garden see the operation at work. This presentation combines highlights of traveling with a seed fanatic and an insider view of the story of Mesa Garden.